Description
Sale page : https://meerakothand.teachable.com/p/email-simplified?ck_subscriber_id=168296260
Price : $297
What if I told you that you could
Grow a targeted list of subscribers that are primed to buy your product…
Increase your expert status just by writing minding reading sequences that have subscribers saying 'I feel like you've been spying on me!'…
Say 'good bye' to emails that get only a fraction of opens, replies and clicks…
Get subscribers to buy without having to nurture them for years and without having to load up on the ick, sleaze and yuck that they're so used to getting on the internet…
Wake up to payment notifications every.single.day…
Skeptical?
Sounds too good to be true?
I don't blame you!
My guess is that you've heard countless email success stories. You've seen the businesses that boast skyrocketing sales and email list growth.
But for some reason you just can't seem to figure out the "magic" email marketing formula for yourself.
You're confused by all the conflicting "free advice" that everyone seems to give the moment you mention email lists or email marketing. Because that's what it is – piecemeal.
Email Marketing can be simple.
You don't need complicated systems to get subscribers or to profit from your email list as many people will have you believe (think $500 list building courses! or $1000 funnel courses))
You can have ALL of that by implementing ONE simple 5-step system.
Email Lists Simplified is the A-Z email program that shows you EXACTLY
how to turn email into an automated sales and list building machine
for your blog or business
Hey, I'm Meera

I know how to help you create massive profit and engagement from your email list by showing you how to take subscribers from 'Who the are you' to 'I want to buy EVERYTHING you launch!'
There are some some BIG misconceptions and myths about what it takes to be successful with email.
Here's what I want you to know:
MISCONCEPTION #1 "The money is in the list"
That's a dangerous half-truth that can send your business dreams crashing like a stack of cards.
You can grow your list to a glorious X number of subscribers…. 1000, 3000, 5000…just name it…
And it still wouldn't make a difference to your business.
Surprised?
Because the power of your email list lies in the relationship you have with your subscribers…
And how relevant your content is. If both are missing and you're stuck with a cold and stale list, the number is worthless.
MISCONCEPTION #2 Email is dying. The bots are taking over
The return on email marketing just keeps growing.
Even with all the new bot & video tech, email still gives the biggest return.
Email makes money. For every $1 you spend on email marketing, you can expect an average return of $38.
MISCONCEPTION #3 Send continuous emails and you'll be fine
It doesn't matter whether you send 1 email or 10 emails.
What matters is whether your sequences can nudge and carry your subscribers towards your end goal…
…whether your emails are so magnetizing that subscribers beg you to send them more….
…whether your emails can generate sales for you on auto…
THAT my friend is an email list that will skyrocket the growth of your business.
FAIL #1: Your email sequences are a maze
You don't know how to write sequences that will lead you to a sale.
A badly planned sequence is as good as a wrong map. Try as you might, but your subscribers will never reach their intended destination. That means a lost sale for you and a terribly disappointed subscriber.
FAIL #2: Your opt-in does nothing for your email list
Two scenarios can happen
Your opt-in grows your list but doesn't grow your business
Your opt-in does neither one
Opt-ins are subscriber magnets only if you craft them effectively. One wrong move and you could end up with a list of freebie hunters not buyers. THAT wrong move is what most business owners make.
FAIL #3: Your welcome email and series shrink and shrivel into oblivion in your subscriber's inbox
There's so much more to creating a winning welcome email and series than posting links to your top few posts and saying 'Thank you for joining my list'.
Subscribers are the most engaged within the first 48 hours after they subscribe. If you can't impress them in those 48 hours, you're as good as doomed. Does your welcome email and series build authority and prime subscribers to buy from you or does it fizzle out in the crowded inbox?
FAIL #4: You tiptoe around your offer and your emails leave subscribers wondering what you're really saying
You haven't the slightest clue how to position your product in your emails and you're super scared of becoming the next internet sleaze ball.This means you sell less and your passive income dreams fade further into the distance.
FAIL #5: You're always crafting emails that go: 'I know it's been awhile'
You're short of email ideas. Or you have no motivation to send emails to your list. The few subscribers you have aren't exactly screaming with glee or excited to hear from you. That buzzword called engagement? You've gone none.
Don't you think it's time you got email to work for you? 
In 5 super-spanky modules (and tons of supplementary material) I reveal my process of taking subscribers from
'Who the are you' to 'I want to buy EVERYTHING you launch!'
I'm giving you my ENTIRE email Marketing process.
This is the same step-by-step method that I used to turn my blog and business into an audience and sales magnet in less than a year.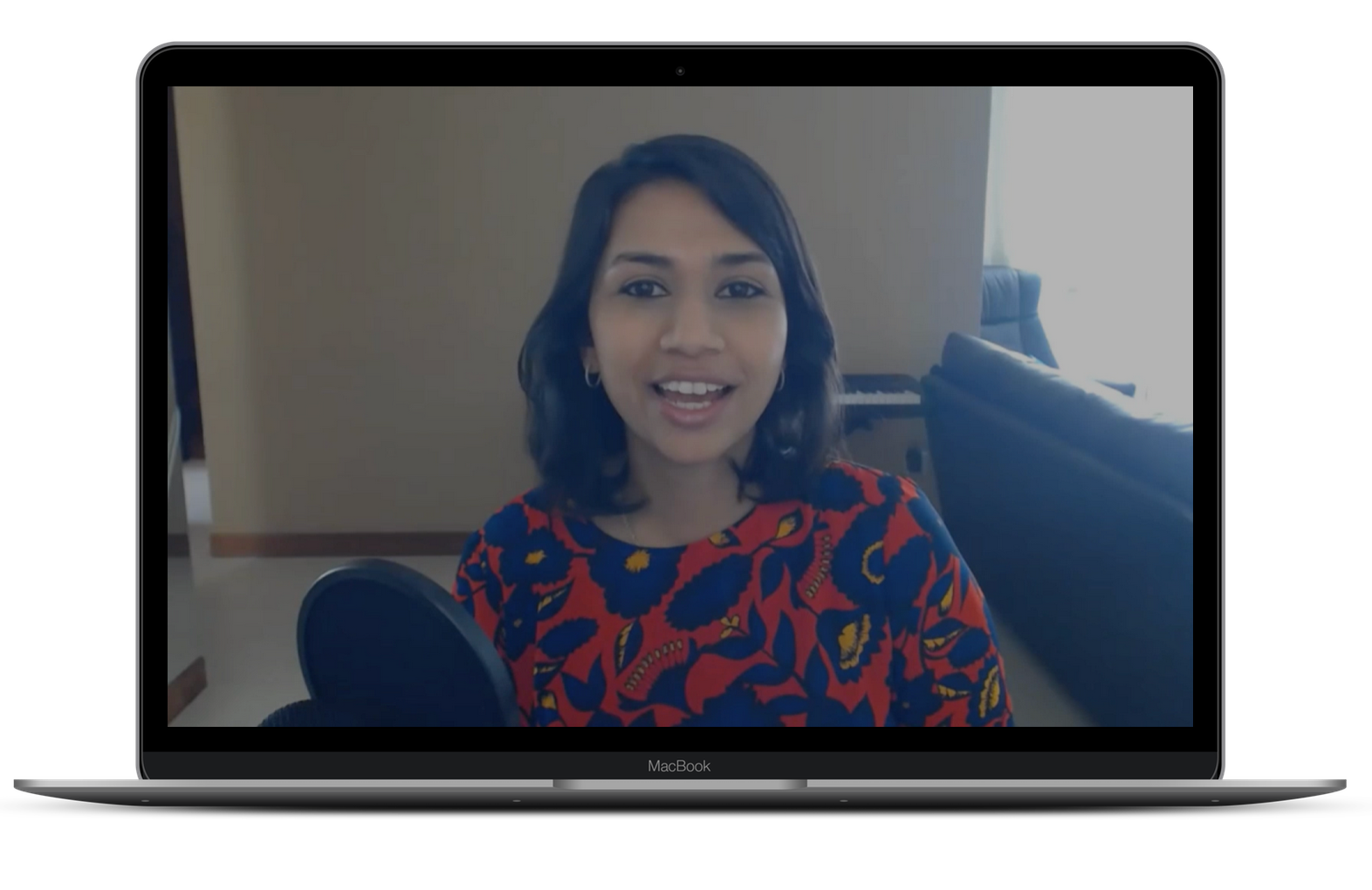 Module 0 | Welcome + Course Overview
Answers to your most common questions including should you use an email template, double optin versus single optin lists, and more…eliminate all the confusion!
Simple ways to make your opt-in forms sticky so that people opt-in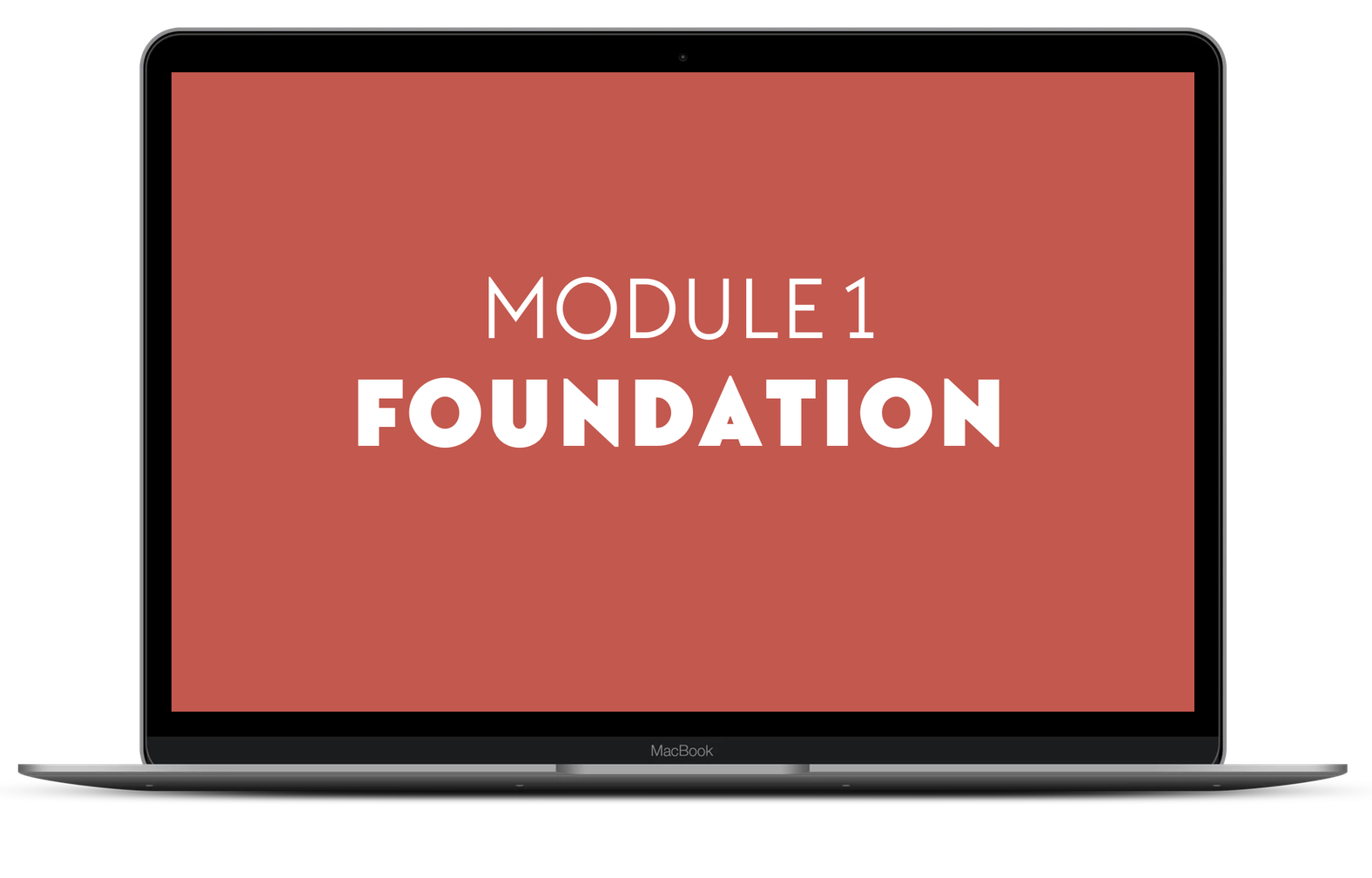 Module 1 | Mindset and Principles Behind Email
What questions you need to answer for your emails to have the remotest chance of even standing out in the inbox
Why even the best emails and sequences will fail without THIS
Persistent myths that keep you from emailing your list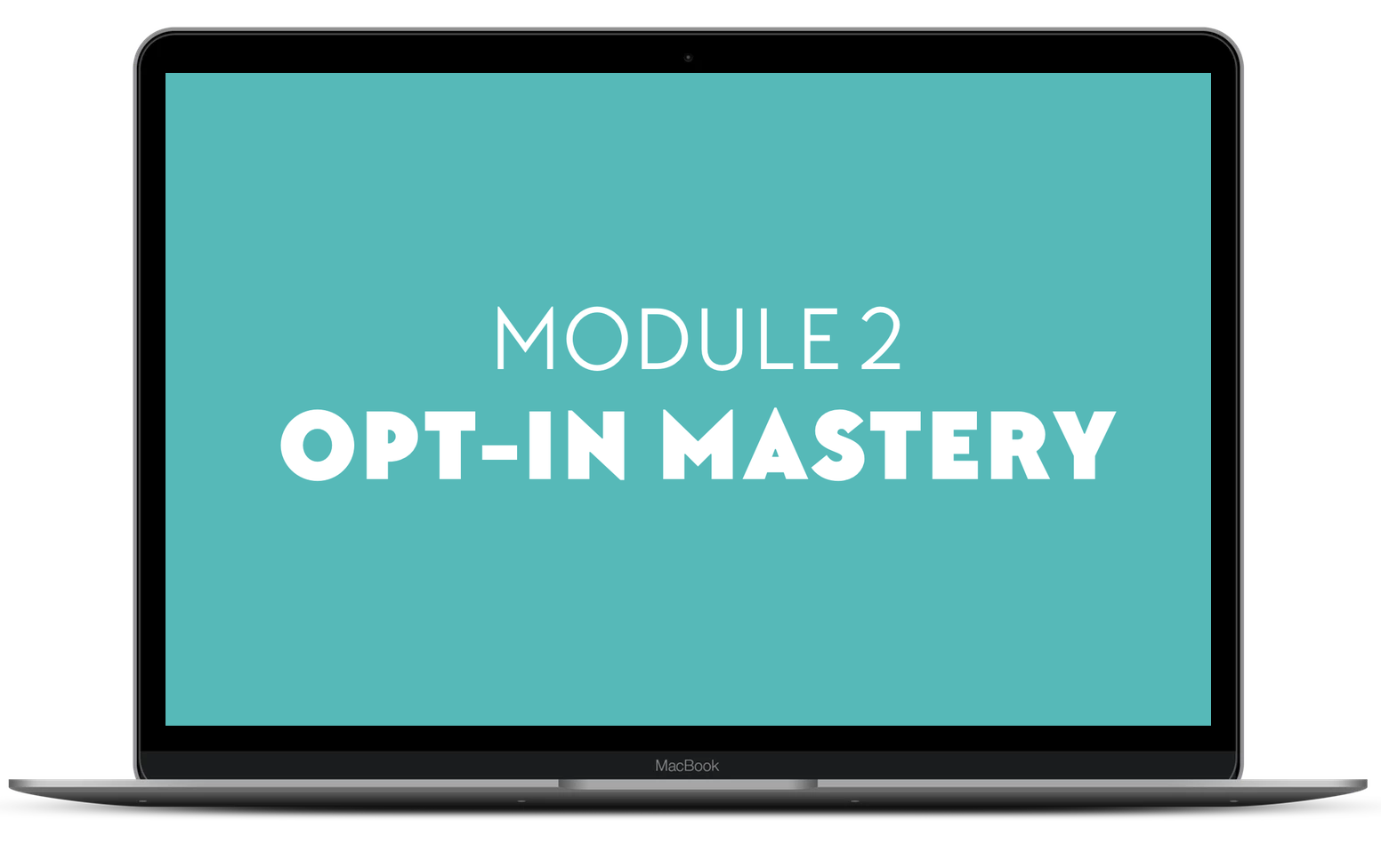 Module 2 | Opt-In Mastery
The ONLY method that will make it as easy as 1-2-3 to work back on your paid offers, free contentand gated content (You'll never have to beg for opinions in a Facebook group or ask people to fill out a survey)
Save yourself WEEKS of wasted time, by being aware of this CRITICAL validation mistake
How to position your opt-in incentive so the leap from subscriber to buyer is faster
What to put on your landing pages so that your target audience instantly shout "YES! I need this!"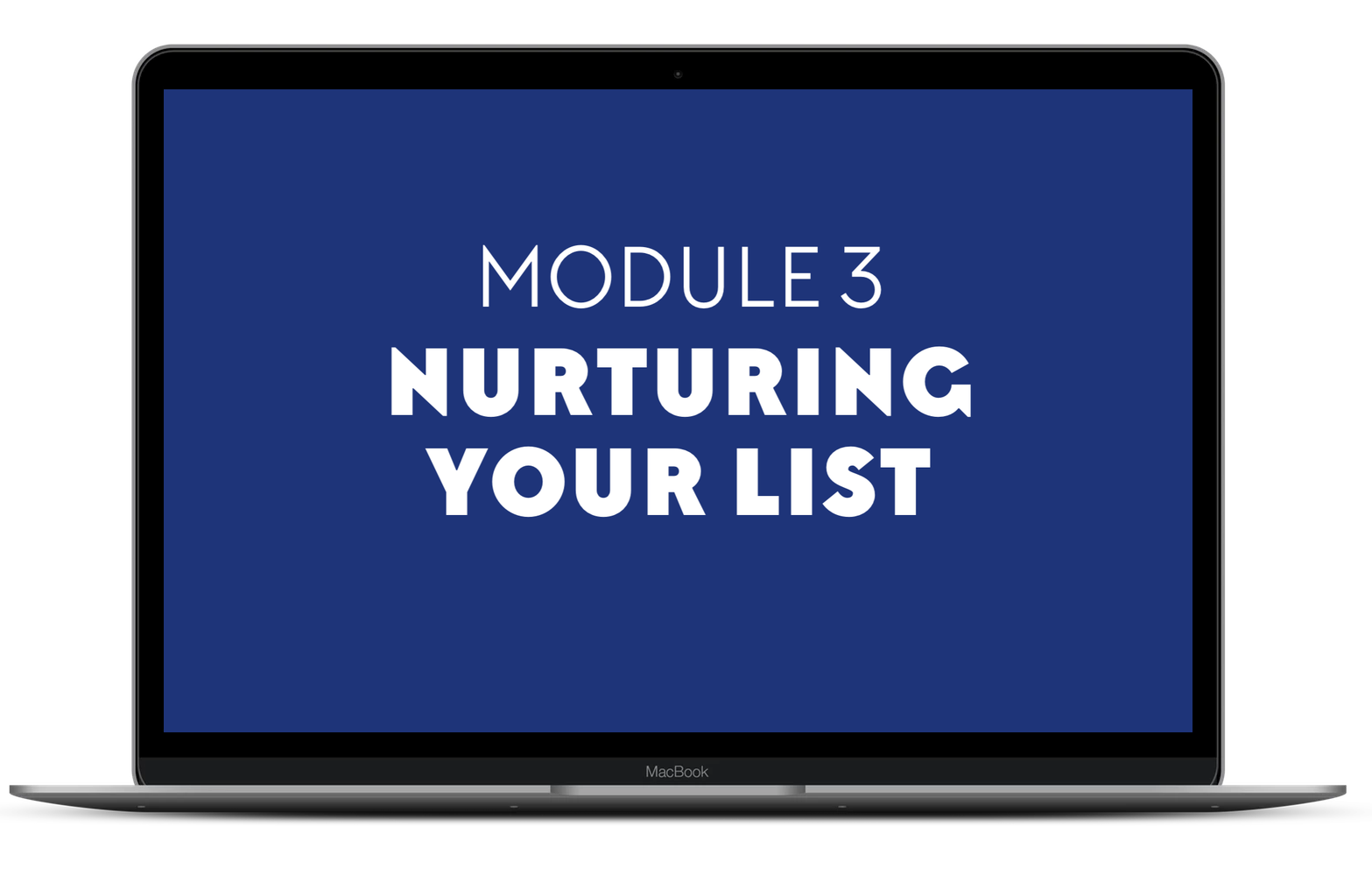 Module 3 | Nurture Your List
Your welcome email sequence is not for simple hellos. Here's how to use them in your business to actually make money
The No.1 mistake solopreneurs make in their welcome email sequences
How to make the best use of your welcome email series even if you have no product to pitch
Never ever scramble for testimonials. THIS simple hack will land testimonials right in your inbox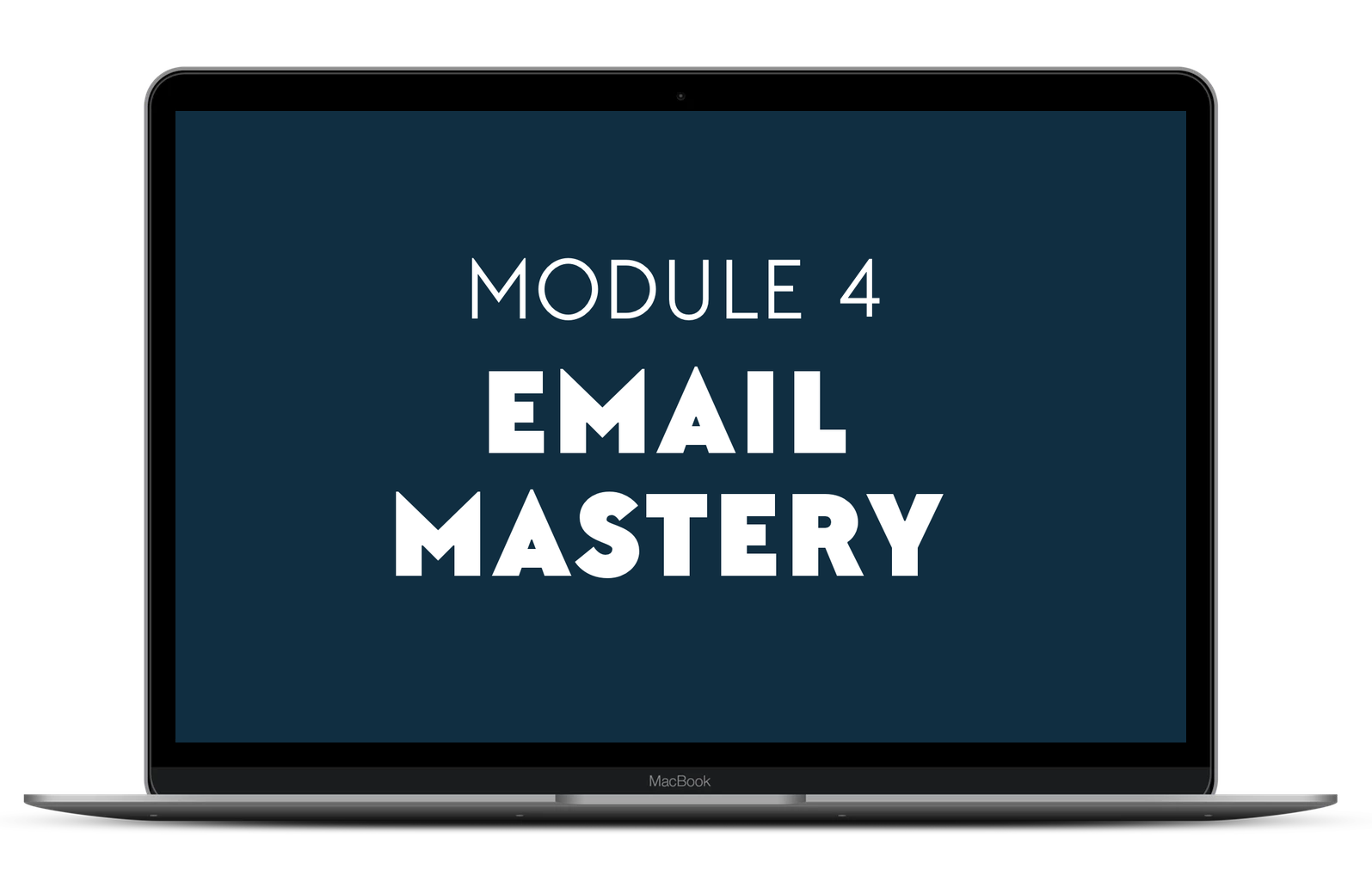 Module 4 | Write better emails + Get more ideas
2 formulas that are a PROVEN cure for email idea blocks. NEVER stare at a blank cursor again
The 7-step checklist to raise open rates, increase click-throughs and get a frenzy of engagement (Includes email opener hooks, subject line formulas and bait the click smart phrases)
4 Sneaky Hacks to write the perfect tease and get your subscribers to look out for your name in the inbox
Stealth ways to automatically segment your list with ease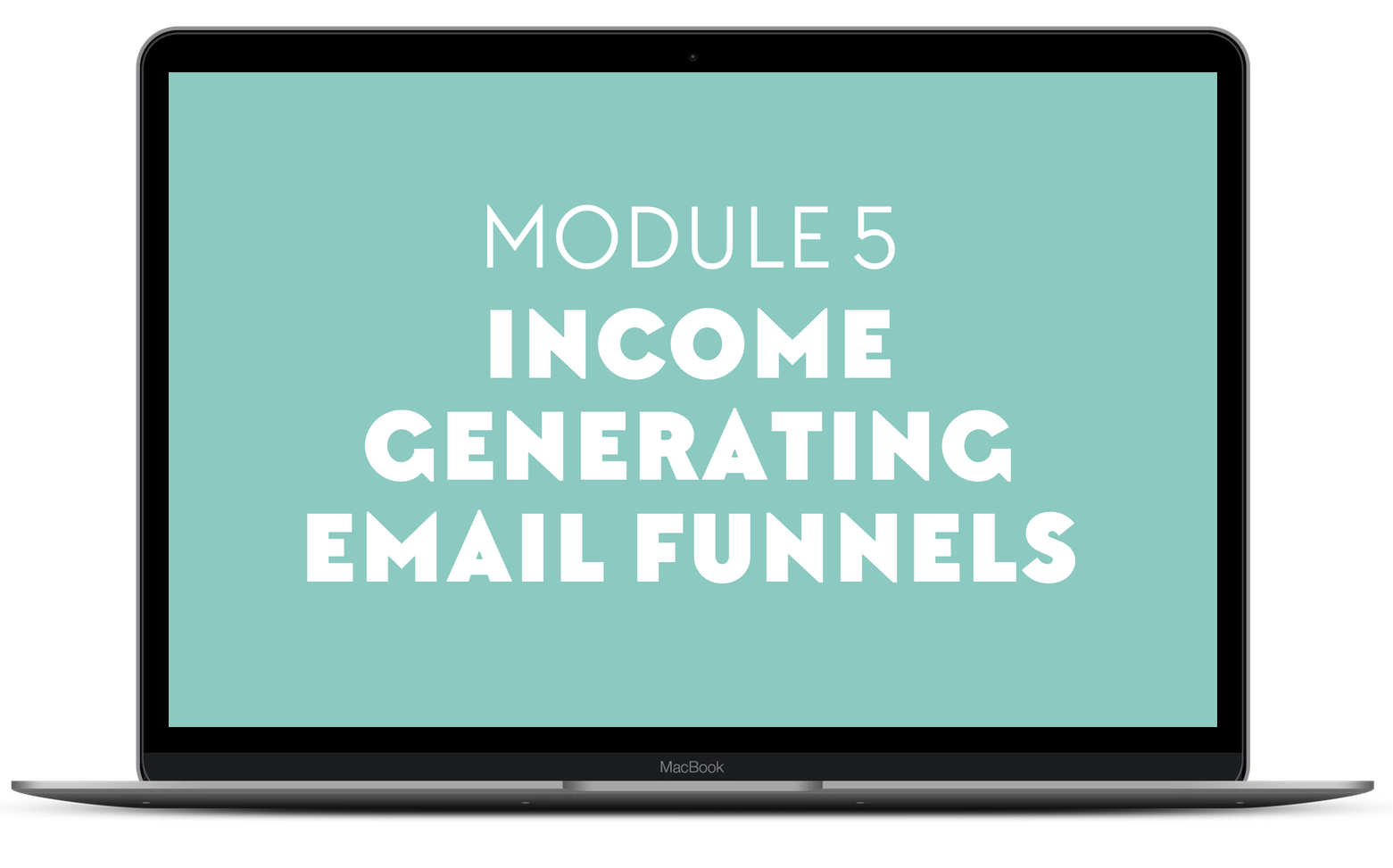 Module 5 | Show-stopping Sequences and Passive Income
How to sequence map LIKE A PRO so you don't come across as an ultra sleaze ball
The quickest way to get people to trust you and see you as an authority
How to write sequences that keep subscribers moving along and hanging onto every word you say. Get emails with 'I'm so thankful I found you!' – THAT magic happens here!
ONE funnel you should implement immediately and how your email list can make sales even if you have NO product (+ 5 others you can add into your business)
2 Live Coaching Calls with Teaching
Here's what I'll cover in my live teaching so that you can get your funnels selling for you within a day!
MUST-HAVE Email Automations to have your email marketing system running like a well oiled machine
How to build a product ecosystem
Can't make the LIVE call, no worries! I'll leave a link for you to submit questions and I promise to answer them all. You get access to the recording too!
Course Supplements
Swipes, checklists and worksheets to turn information into action. No 'fill in the blank' pages here. Every page supplements the information in the modules and gets you to go deeper. 70+ pages of email goodness.
Content Upgrade and Opt-in Templates so that your opt-in incentive doesn't EVER have to look like a Kindergarten art project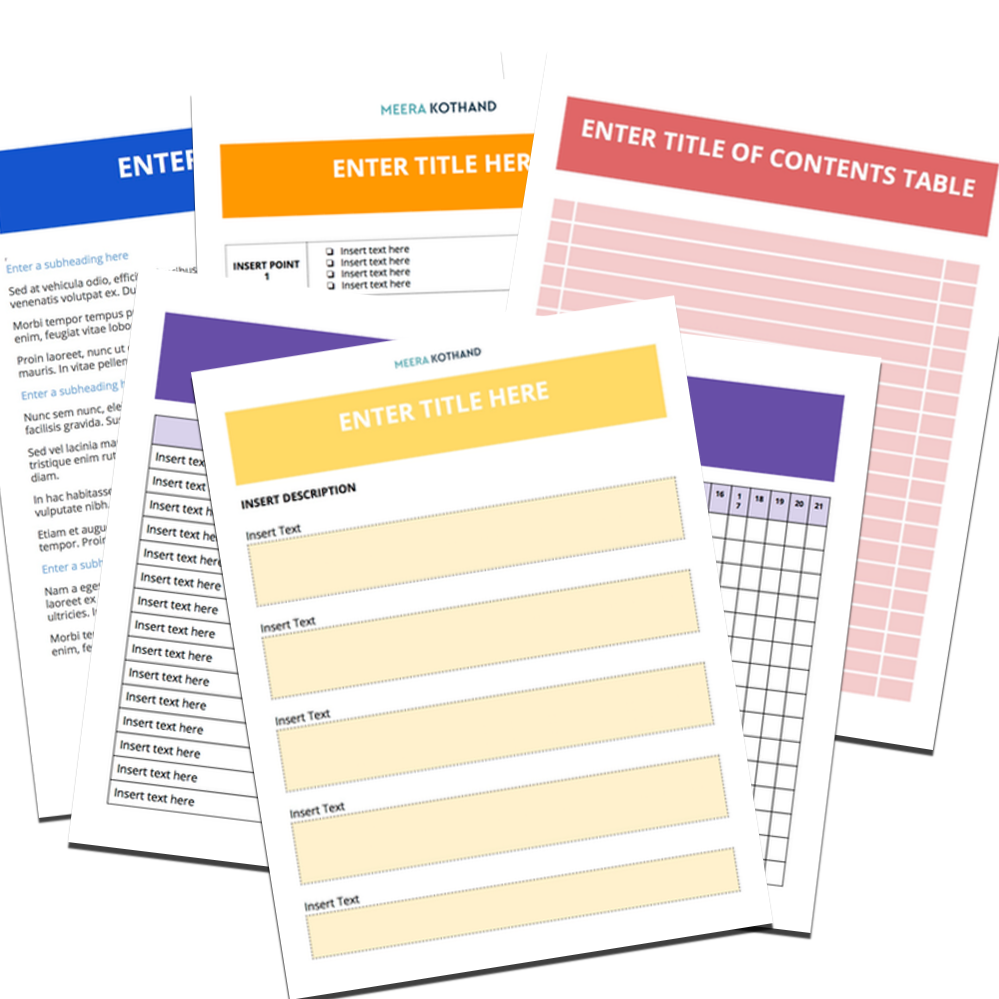 Tracking sheets that give you a bird's eye view of your email list launch, list growth and email sequence planning
Opt-in Vault to inspire your next lead magnet creation
Tech Video Vault with trainings on how to use Thrive Landing pages, Convertplug and Convertkit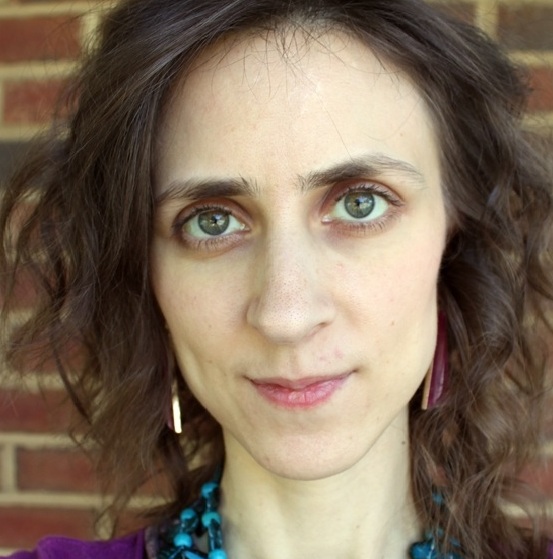 Meera, thank you SOOO much! I must be the slowest implementer ever, BUT…I now have two welcome series up and running.
I also have to add that, after fighting this stuff for YEARS (as in, I've been blogging, etc. for over a decade!), working through your products is finally making a lot of this stuff actually *click*. My emails are flowing into each other better, linking and inter-linking is coming more naturally, and I'm thinking more intuitively about the elements of a product launch.
Rachel Ramey, Titus 2 Homemaker/Naturally, Holistically Healthy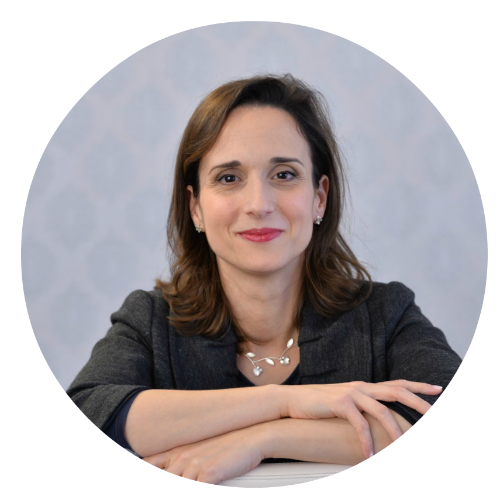 I LOVED this course – and haven't even gone through all of it yet (still loads of goodies ahead (Automations, Funnels, Swipe files!). Value for money was really amazing!!!
What I found most useful up to now is Meera's simple yet analytical approach to deciding how to build and what exactly to write onto a landing page, how to craft an email sequence, and so on. This was a mystery to me before I started the course! I am certainly much further on my email marketing journey and am still looking forward to working through the rest of the material! Thank you Meera, you're a star!!!
– Susanna Kemper, Pediatrician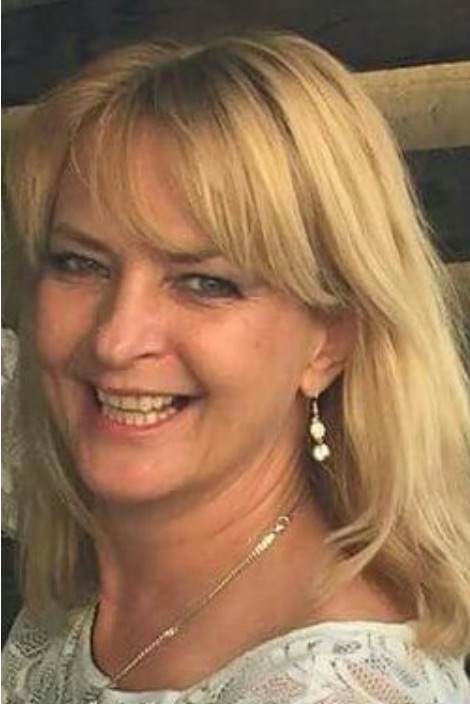 My email list was non-existing until I found Email Lists Simplified and Meera.
Her mails were very clear, so I figured that if she had the same style in her ELS course, it would be my turning point. It did. In 2 weeks after the purchase, I made my first funnel and gained 200+ subscribers to my list. ELS is very easy to follow and al the lessons are in PDF to download and print. Should have done it sooner.
– Emmy van Meir, Budget Diva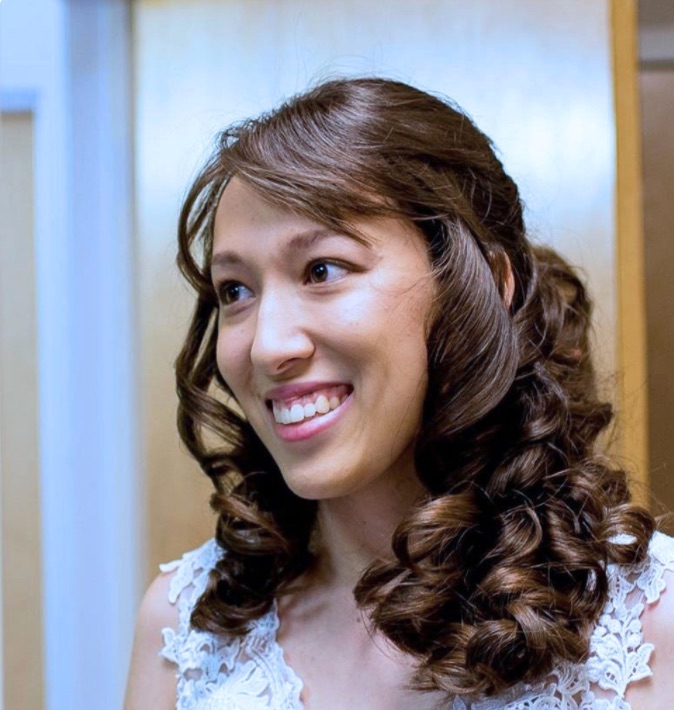 Email Lists Simplified has completely transformed, not just my approach to email marketing, but the entire course of my blog! Meera's teachings are simple, actionable, and SO effective! This advice actually works. You can always count on Meera to deliver value and results, and ELS does not disappoint.
– Katie Scott
Bonus #1 | FAST 1000 (Value: $197) 
This could be a course in itself! You'll discover 8 different list building strategies to get your first 1000 subscribers FAST.
A sampling of the strategies:
The Pinterest Pin Model
The Social Proof Indicator Model
The Borrowed Platform Platform
The Quiz Model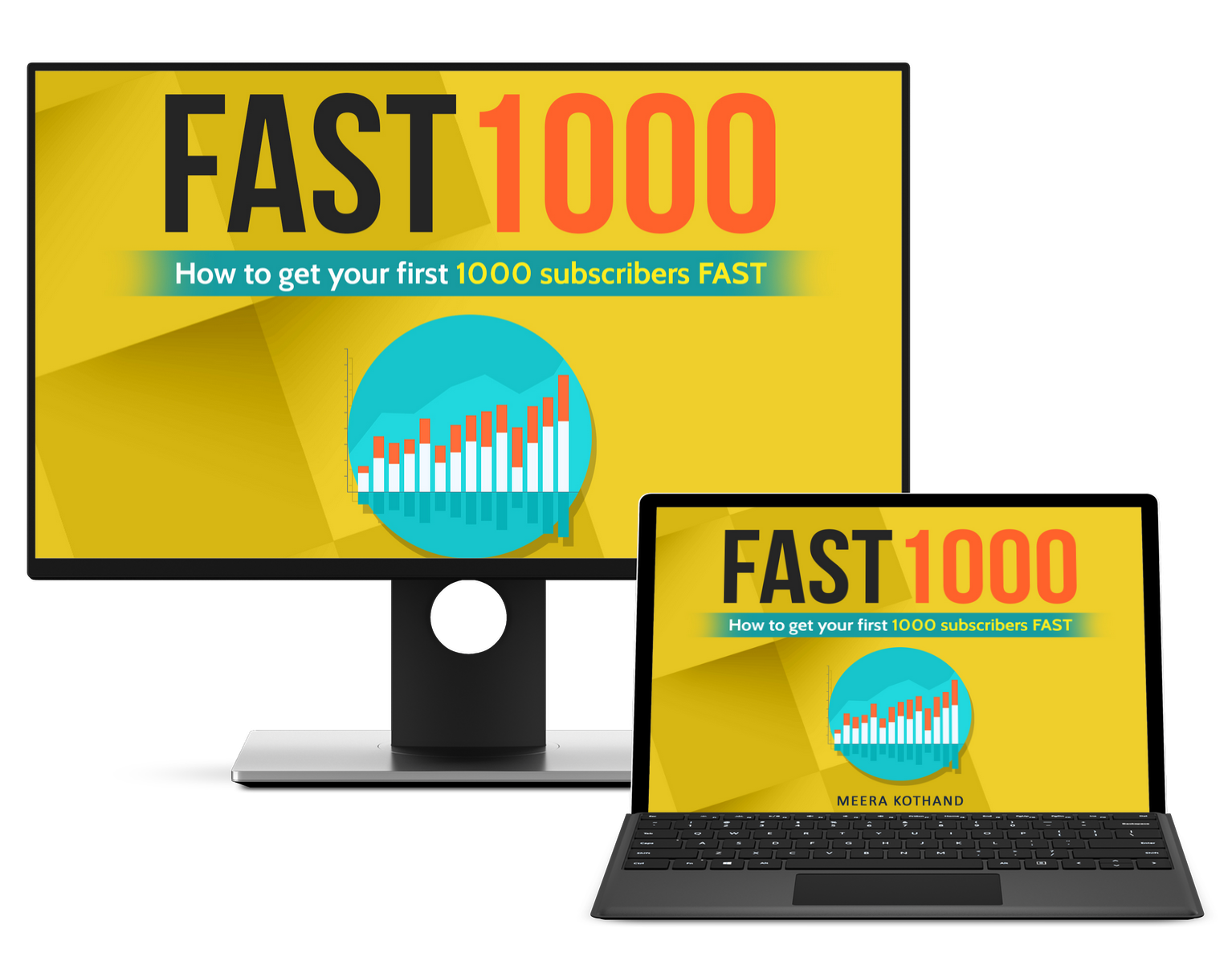 Bonus #2 | Done-for-you Email Editorial Calendar (Email Campaigns to Model)

6 email campaign types to fill your editorial calendar including what's a gap campaign and authority building campaign. Let's give structure and clarity to your emails!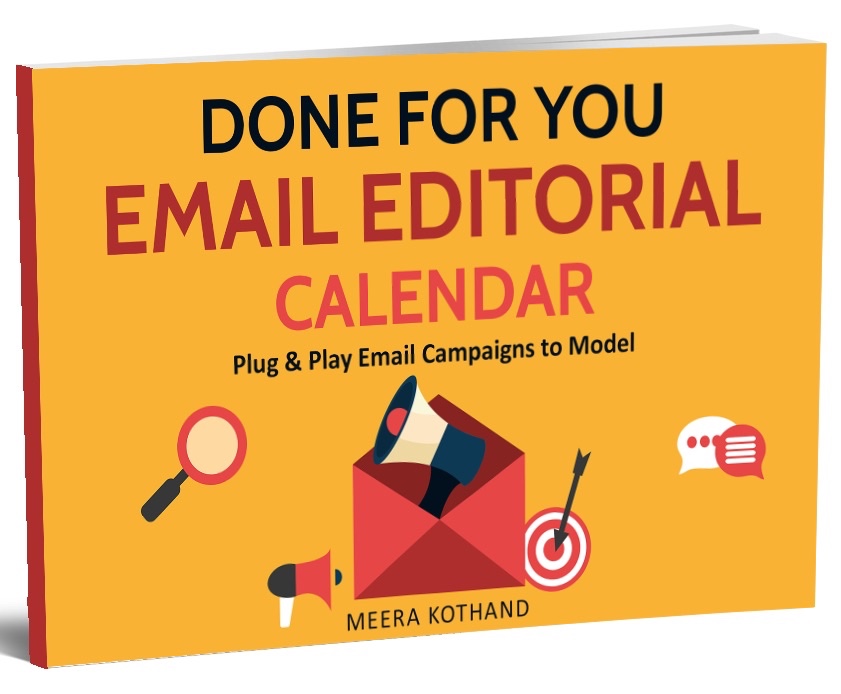 Bonus #3 | How to Weed Inactive Subscribers
The exact steps and even the subject lines to 're-engage' inactive subscribers so that your list is healthy. I'll also include an essential automations list to keep your email system tidy and optimal.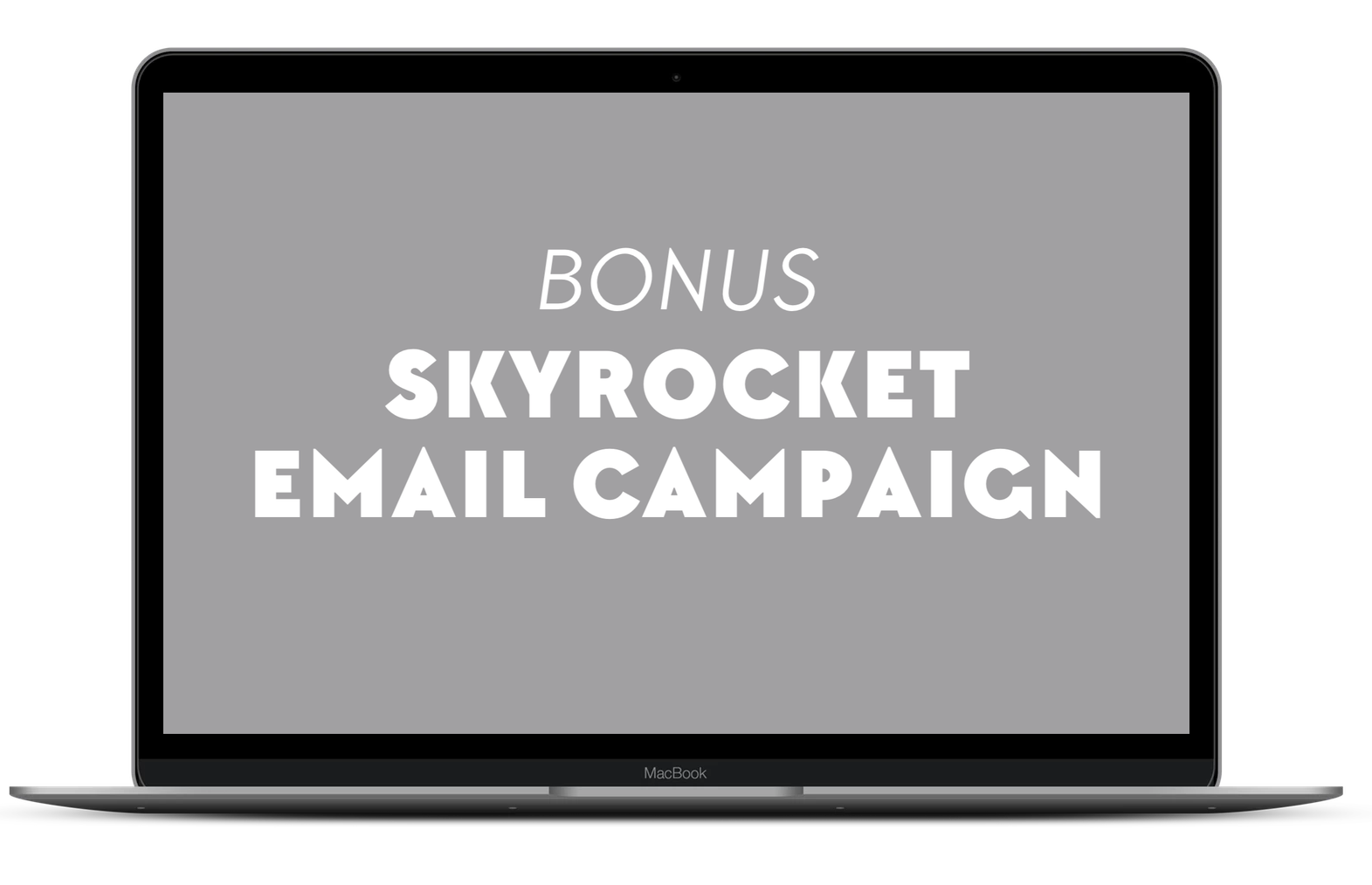 Bonus #4 | A slack group with access to me
Because slack is waaayyy better for productivity and free from [insert video of cute thing that sucks time and distracts you]

Bonus #5 | A free month of Convertkit
Want to try Convertkit out before you make the switch? Now you can, for FREE.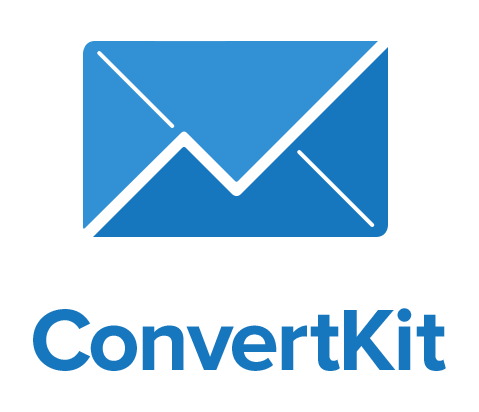 Disappearing Bonus #1: Story Telling for Business
Surprising ways to sneak stories into your marketing even if you think you suck at it!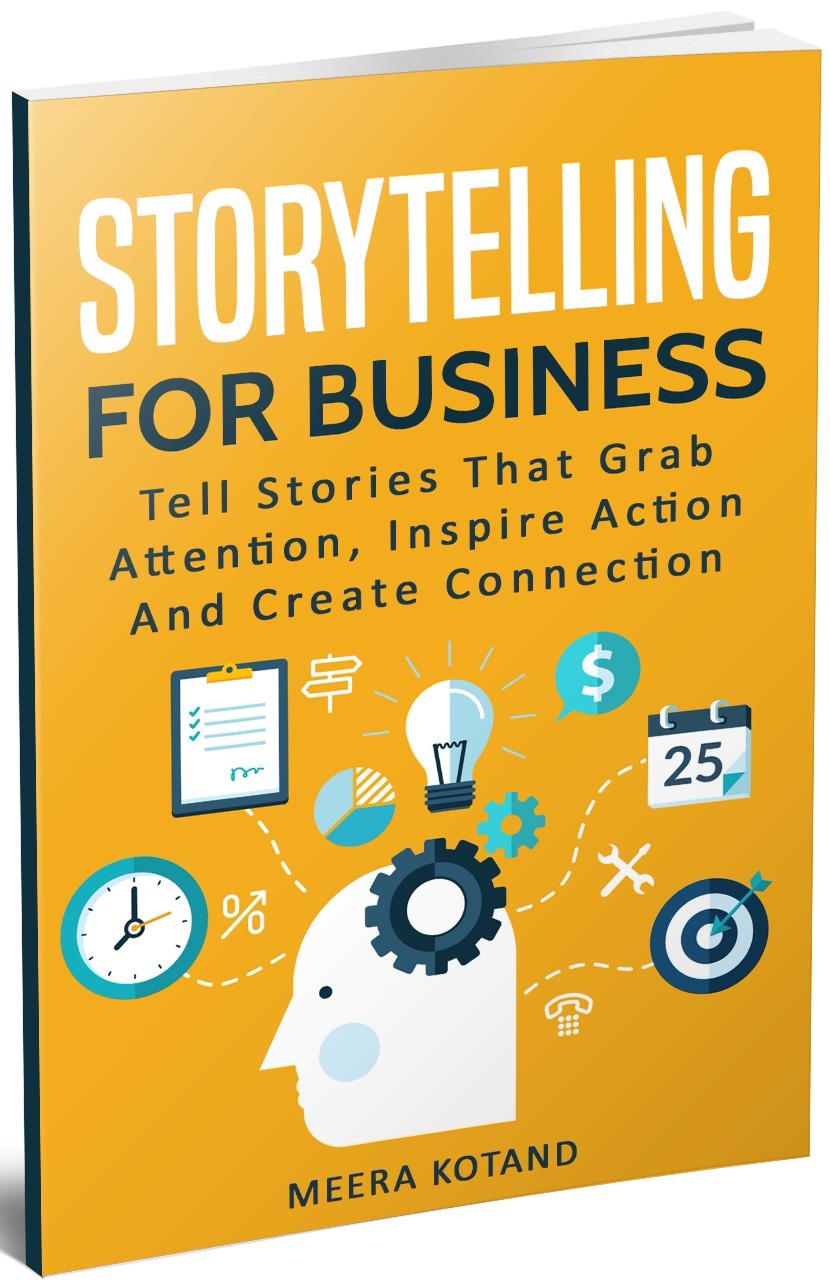 Disappearing Bonus #2: Email Scripts with Annotations
The exact script for a funnel that brings me 1K+ in passive income every single month
The exact script for an affiliate funnel that brings me $200-$300 every single month

Your insights were great! They've really helped us nail down our email sequence and given us better overall copywriting direction.
– Grant Higginson, Principal Digital Marketing Consultant, Welby Consulting
This course is for you if
You'd like to add an extra income stream
You know you need to sell more but you're not sure how to do it with email
You're not able to get engagement from your audience no matter how much you try. Your emails are pretty hit and miss
You're ready to invest time right now rather than later
You know email can get you great results if you use it effectively.
You know the value of your subscribers (or future subs) and can't wait to show them the love
This course is NOT for you if
You're focused solely on growing your list
You're not convinced that email is the way to go
You're waiting for a magic X number of subscribers to nurture your list
You're looking for a 'make money fast' plan
Here's a look at everything you'll get access to
> 5 in-depth training modules will take you through the course material. The modules are video-based, but you'll also have access to the slides, transcripts, and audio.
> 2 LIVE Coaching Calls and Teaching
How to build a product ecosystem
MUST-HAVE Email Automations
> Course Community, Lifetime access to a Slack group for asking questions, sharing your progress and getting feedback from me.
> FAST 1000 Course
> Done-For-You Email Editorial Calendar (Email campaigns to model)
> Skyrocket Your Email Campaign Masterclass

> A free month of Convertkit
> Opt-in Idea Bank

> Tech Vault
> Spreadsheet Vault
> Disappearing Bonus – Storytelling for Business (DISAPPEARS ON 1 March 23:00 EST )
> Disappearing Bonus – Exact Email Scripts (DISAPPEARS ON 2 March 23:00 EST )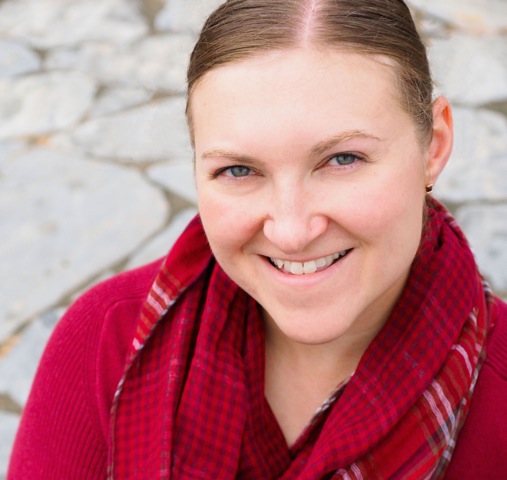 "I'm going through your email "recipe card," and it's helping me so much! I was so stuck on what to send out each week and I've been so worried about how I will respond to the people that sign up to my list, but this has been super helpful 🙂
I feel like this is getting me so organized and relieving the stress!"
Kristen King, Bountiful Path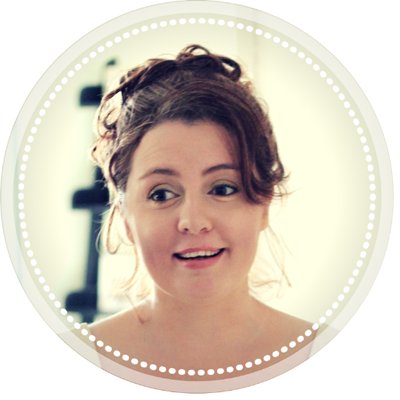 I spent a lot of time working to grow my email list. I devoured everything I could about list building and tried every strategy I could think of. It worked and my subscriber list grew… but then I ran into a problem. I didn't know what to say.
I'd spent so long learning how to grow my list that I'd never thought about what I was going to do after. I had no plan, so I defaulted to writing an off-the-cuff email after each blog post I published.
I decided to take Email Lists Simplified because I needed help with my email marketing. I knew I could trust you because your blog is full of helpful and detailed information.
After taking Email Lists Simplified, I have a plan for my email list. I know when I'm going to be emailing, what launches I'm going to be participating in and what else I'm going to email them about. And none of it has to do with my recent blog posts.
Cath Oneissy, Iconic Copy
1. I'm Meera, Amazon Best Selling Author and Email Marketing Specialist
My specialty? I simplify marketing strategy for bloggers and solopreneurs like you, so that you find focus, craft a strategic online presence and get noticed. And I do it with no-fluff, direct and actionable advice and a smattering of tough love.
My tips on email marketing and blogging have been featured on Marketing Profs, Addicted 2 Success, YFS, Smart blogger, Successful Blogging and several other sites.
I went from sub-zero where no one knew I existed on the internet to an audience of thousands and built authority as the 'go-to email person' all within 9 months of launching my blog. I know how to help you build a solid email foundation that creates massive profit even if you start with a tiny list.
2. I don't just tell you what to do or how to do something. I tell you WHY as well as WHAT you shouldn't do, so you know EXACTLY how to apply this to your blog and business.
Trust is what gets people to:
share your work without you even asking
tag you in Facebook group discussions
reply back to your emails with appreciation
comment on your work
speak highly of you and recommend your work when you're not even there
This is the basis of how I run my blog and business. And this is exactly what I teach in Email Lists Simplified.
Here are a handful of the hundreds of love notes I've received that are testament to this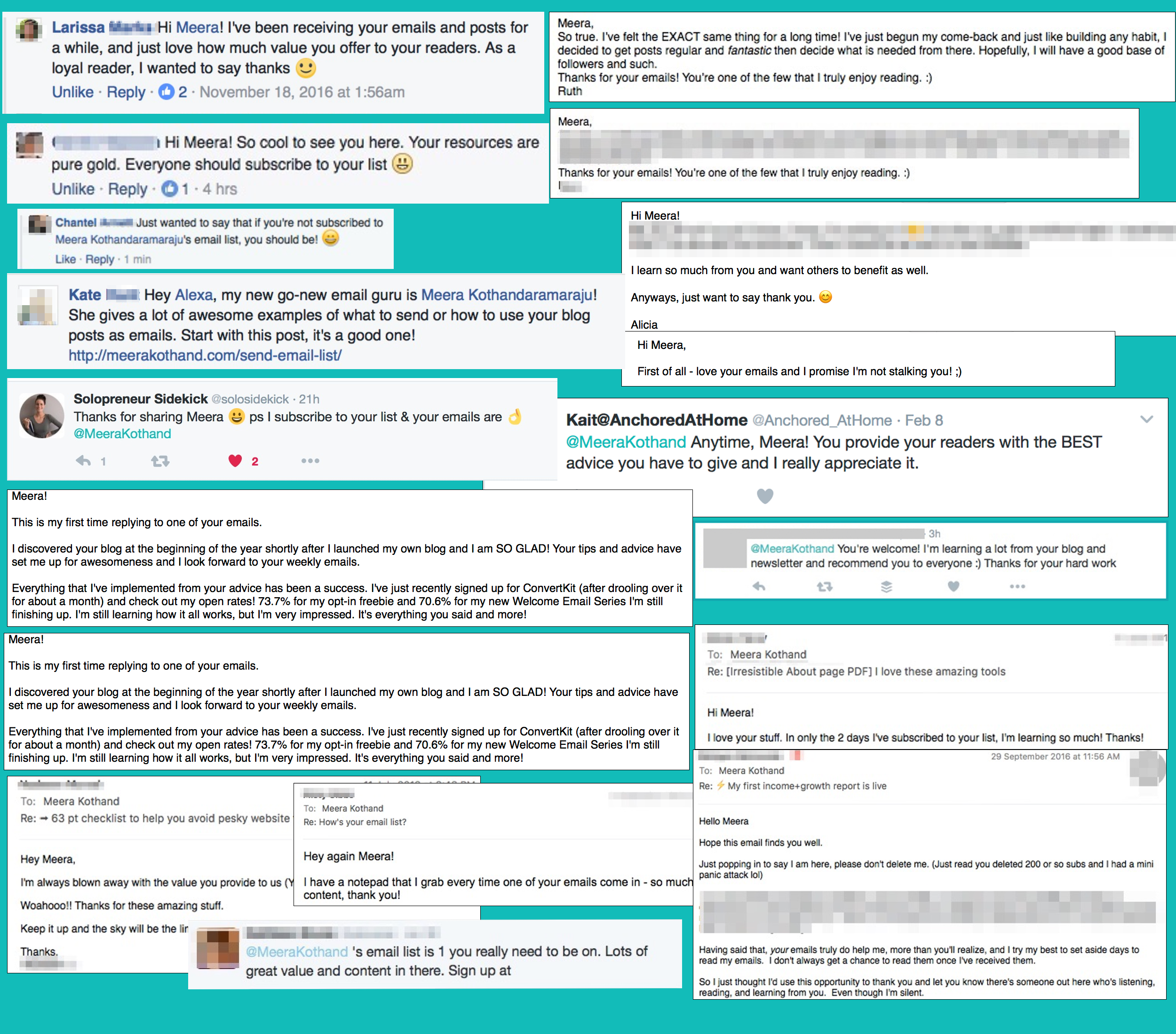 3. My opt-in pages convert at 35% and up. I have an email open rate of 35%+ and up. And I have a system in place that make me sales on autopilot.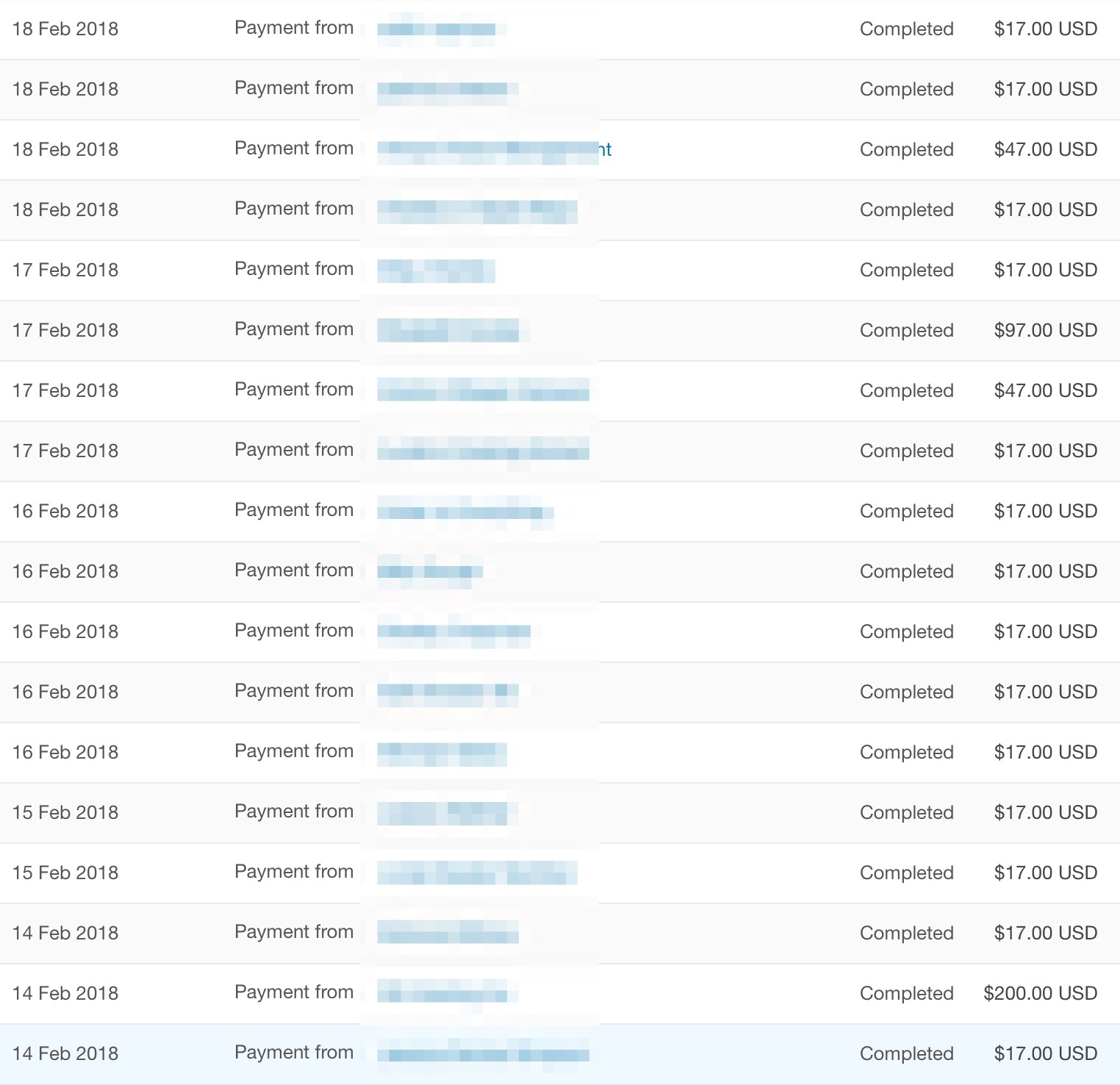 I want to show you how you can do the same and why…
This above, CAN be your reality
THIS IS YOU: Your PayPal account grows and you get sales notifications every single day.
THIS IS YOU: You take the weekend off, go on vacation or even have a baby and still see your list grow, rake in testimonials and make sales. All thanks to those systems you have put in place!
THIS IS YOU: No more guesswork when it comes to creating your opt-in offer. You create an offer with all the right ingredients, attract a targeted pool of subscribers who clamor to get their hands on your offer and who will buy from you vs freebie hoarders who are in it for a free download.
THIS IS YOU: You have an endless list of email ideas. Dig in, pick up what works for you or mix them up to get an explosive list of ideas.
THIS IS YOU: No more feeling sick to your stomach at the thought of sending emails to your list. The only butterflies you have in your stomach are from seeing the number of automatic sales you make in a day.
THIS IS YOU: You write emails and sequences with ease with templates and formulas that are done for you. Plug in your content, tweak and you are good to go.
I've gone through the trials, the errors and packaged all of it into a system that has worked for me!
And it's now yours to try, implement and get results.
Email Lists Simplified At a Glance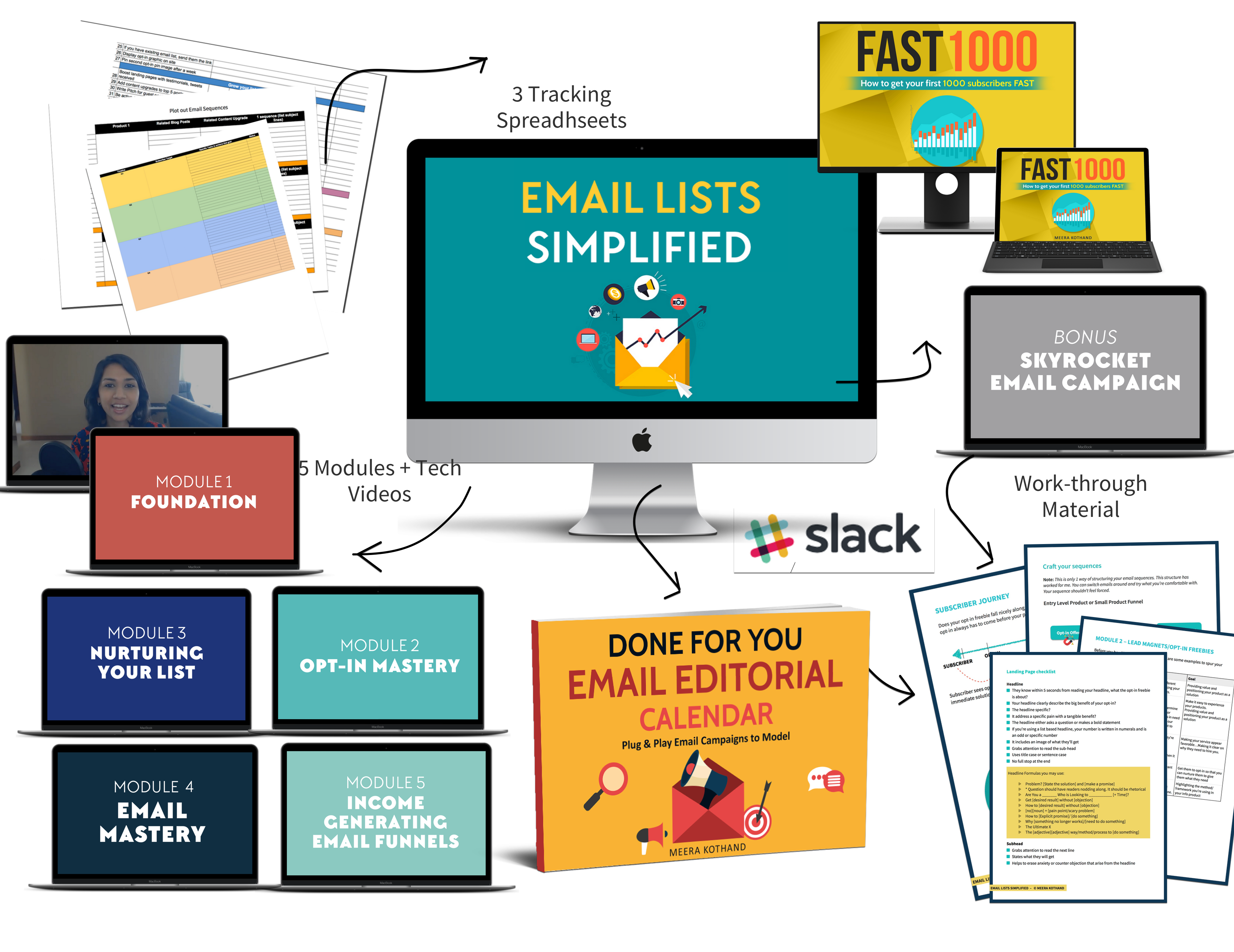 If you're familiar with my work and have interacted with me before, you know that I always attempt to over deliver with my content and service to subscribers.
I assure you the same with this course. As you work through the material, don't hesitate to reach out to me if you need extra help.
I also understand that there are a several products out there that may have left you with a less than thrilled experience.
While I can guarantee you won't have such an experience with this course, here are details of the refund policy just so that we're on the same page.
By purchasing the Email Lists Simplified, you agree to the following policy:
If you use the worksheets, go through the material and are still not satisfied after 14 days, I'll refund your full payment as long as you fulfill the refund qualifications:
To qualify for a refund, you will need to:
1. Provide a reason why you are dissatisfied with the course; and
2. If you feel that the course does not deliver on it's promise, map out the course against the sales page to show what you feel it does not deliver on
In other words, I can't grant a refund just because you changed your mind.
Please make sure that you do indeed want a copy of the course before purchasing.
I only ask that you do not purchase the course with the intention to ask for a refund.
The reason I have a strict refund policy is because I know this is an amazing product and if you're serious about getting started with email marketing, it will give you everything you need. I'm happy to issue a refund if the course is not what I promised.